---
Rockford Scanner
News, Editorials, Events, Paranormal,
Sports, Weather, Letters to the Editor, Reviews, Opinions,
Police Scanner, Advertisements, Humor, Jokes, Satire, Parody,
Whatever we feel like posting about…
We strongly recommend you doing your own research,
And forming your own opinions.
---
---
---
---
---
Facts: Simple communication and transparency 
WOULD eliminate any misinformation or exaggerations 
Fitness Equipment by Power Systems
Our opinion on what allegedly may have happened,
Based on the information that has currently been provided to us.
Any Errors/Corrections, Please Contact Us: RockfordScanner@gmail.com
---
Storm Damages?
Contact Lask Exterior Solutions
---
As severe weather approaches,
It is time to buy a WEATHER RADIO!
My hats go off to all the businesses and community members who own a weather radio!
Check out weather radios on Amazon at: CLICK HERE
---
---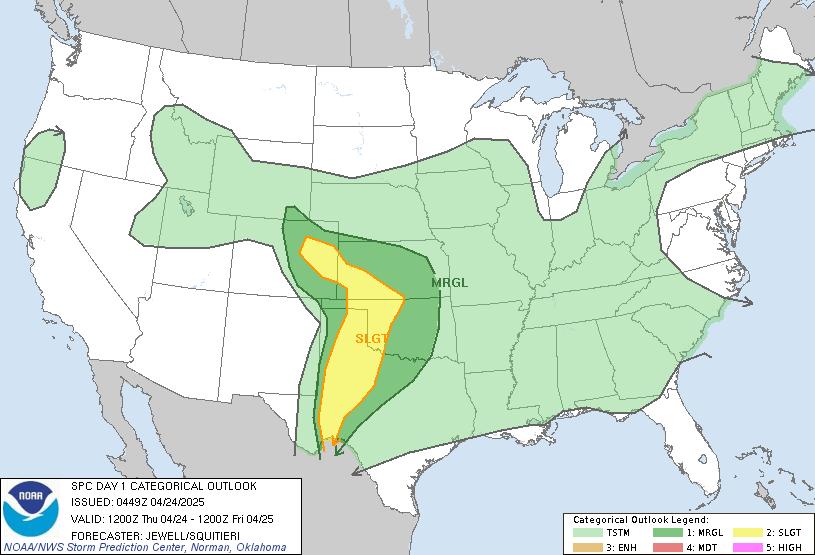 Potential For Severe Weather Friday Afternoon/Evening, Keep Your Eyes/Cameras To The Skies!
...THERE IS A MODERATE RISK OF SEVERE THUNDERSTORMS ACROSS PORTIONS
   OF THE MID MISSISSIPPI VALLEY/MIDWEST AND LOWER MISSISSIPPI
   VALLEY...

   CORRECTED FOR MISPLACED LABEL

   ...SUMMARY...
   Intense and widespread severe thunderstorms are expected this
   afternoon into the overnight hours across portions of the Middle
   Mississippi Valley and Mid-South vicinity, eastward to the Lower
   Ohio and Tennessee Valleys. Intense, damaging gusts and several
   tornadoes (some strong and long-track) are expected.

   ...Discussion...

   Strong, dynamic upper low will begin to deepen early in the period
   as it tracks across the central Plains into the Midwest Friday
   evening. This feature will encourage a pronounced surface low to
   eject into southeast NE by sunrise Friday, then into lower MI by the
   end of the period. Significant moisture return ahead of the
   associated cold front will lead to an air mass supportive of severe
   thunderstorms from the mid MS Valley/Midwest into the lower MS
   Valley.

   ...Mid-MS Valley/Midwest Vicinity...

   Early this morning, a strong upper trough is shifting across western
   WY/Four Corners region. An upper low should evolve over the central
   Plains by late morning with further deepening expected as the low
   tracks into the mid MO Valley by early evening. Latest model
   guidance suggests a 500mb speed max will increase to near 110kt as
   it translates across MO into the OH Valley during the latter half of
   the period. As a result, intense 12hr height falls, on the order of
   270-300m, will spread across the mid MS Valley/Midwest which should
   encourage the aforementioned surface low to deepen as it matures
   over northeast IA/southwest WI.

   Strong low-level warm advection is currently aiding a corridor of
   elevated convection from northeast NE across northern IA,
   along/north of a stationary front draped across this region. Latest
   thinking is much of the warm sector should remain convective-free
   through late morning until leading edge of stronger forcing spreads
   east in conjunction with rapid boundary-layer heating ahead of the
   cold front. Steep low-level lapse rate plume should develop across
   the central Plains early then spread/develop east-northeast across
   MO into portions of IA ahead of the front. Forecast soundings
   suggest convective temperatures will be breached by 18z immediately
   ahead of the low/front. Scattered supercells should develop quickly
   thereafter, tracking quickly northeast in response to the
   fast-moving upper trough/speed max. Discrete supercells should be
   the initial storm mode with very large hail expected. With time,
   strong forcing may lead to line segment and clusters. Strong shear
   will support long-lived updrafts. In addition to very large hail,
   tornadoes can be expected (a few strong) with these storms,
   especially prior to any line segment evolution.

   While the more concentrated storms should be noted across
   IA/northern MO into northwest IL, there is concern for more isolated
   long-track supercells across central MO into IL. All hazards can be
   expected with these storms.

   ...Lower MS Valley...

   A secondary corridor of concentrated convection is expected to
   evolve ahead of the front across the lower MS Valley. Early-day
   mid-level speed max that races across northern OK into MO will allow
   the front to surge into southern MO, arcing across the Arklatex by
   late afternoon. Surface dew points have risen into the mid 60s
   across northeast TX/western LA early this morning. This air mass
   will easily advance across AR into western KY prior to convective
   initiation. As a result, SBCAPE should be on the order of 2000 J/kg
   with very strong sfc-6km shear and low-level SRH. Any supercells
   that evolve within this air mass will do so within an environment
   that favors long-lived updrafts and strong tornadoes. Upscale growth
   into a QLCS is expected during the latter half of the period. Severe
   threat should spread east across the northern Gulf States Friday
   night.
---
As much as we hate asking for donations.
Sadly, it does cost money to run RS. 
Dedicated server, Domain, Maintenance, Time, etc…
Every penny helps!  
Donate via debit or credit card:
CLICK HERE
Thank you in advance for your donation!
---
Officials have not yet released any information:
To confirm anything

(Nothing is confirmed),

On the incident

(What happened?),

Possible alleged suspects,

(Who may be involved?),

If there is a possible threat to the community

(Community in danger?), 

Who to possibly be on the lookout for,

(Who to be on the lookout for?),

If they do release information, we will update this. 


If there are no updates, officials have not released any information that we are aware of. 
---
Rockford

Scanner




See it

,

Snap it

,

Send it
---
SEE IT: See a scene or something of interest 
SNAP IT: Pull our your camera and film

SEND IT:

RockfordScanner@Gmail.com
Examples of
Rockford Scanner Fan Submissions 
---
CLICK HERE TO DONATE
Thank you in advance for your donation!
---
Visit our sponsors:
CLICK HERE
---
Checkout one of the best
Police scanner on the market!
---
Our personal opinions on various topics.
---
---
---
Disclaimer:
Our content is for entertainment purposes only.

Informative entertainment.

All the information posted is our own personal opinions.
Our opinions on what allegedly may have possibly have happened.
Based on the information that was currently provided to us, at the time of posting it.

We strongly recommend you doing your own research, and forming your own opinion.

We are protected by the 1st amendment.

Everyone is innocent, until proven guilty in a court of law.

We can not guarantee the accuracy of our content.


Information is very dynamic and may change.

If you know of any corrections, please contact us right away.




RockfordScanner@gmail.com
---
Our information is for entertainment purposes only. Because of this, We can not guarantee the accuracy of our information.  If you know of any errors, please contact us at RockfordScanner@gmail.com and please provide us with the proof of the correction.  We strive for accuracy. But, the information is always dynamic and changes often with our type of content.  Because of this, We do apologize ahead of time if there are any errors.  So, Please let us know of any updates or errors!  We are protected under the first amendment.   
Disclaimer and Terms:  CLICK HERE