---
---
You can follow us on Twitter, Youtube, Facebook.
Update from the WCSO
UPDATE:
Two adults and one child seriously injured in two vehicle crash at N. Main & Gleasman Rd. this morning.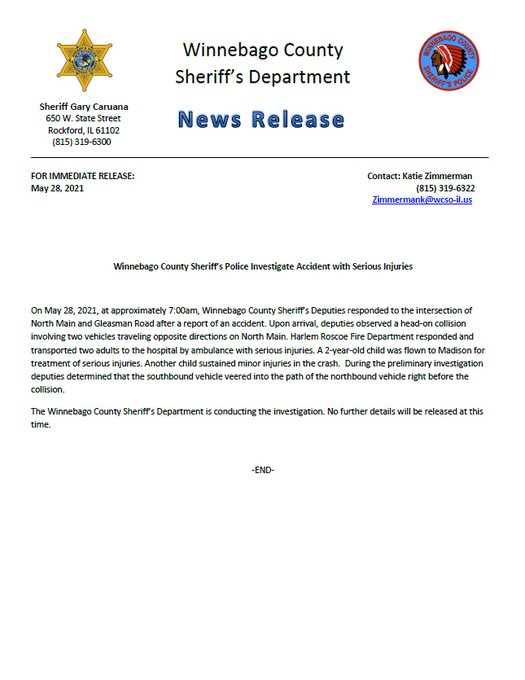 ---
Rockton FD releases photos and information:
HEAD ON COLLISION: Rockton Firefighters and Paramedics were called to this two vehicle traffic accident at 06:30 this morning. The accident happened on North Main just South of Gleasman Road. A total of four subjects were involved, some which sustained serious injuries. Harlem-Roscoe and South Beloit Fire Departments responded with additional ambulances to assist with patient care and transport. Winnebago County Sheriff's Police along with the Illinois State Police were on scene. The accident remains under investigation.
---
Sources are reporting an auto accident with injuries. 
It happened around 6:50 am near N Main and Gleasman. 
If your traveling in the area, you may want to avoid this area. 
Reports of an auto accident near this location. 
Sources said this is a head on collision.
Injuries were being reported. 
Original reports said there might be multiple injuries. 
Still developing…
UPDATE: Viewer discretion is advised.
Video by RS sourceDuane Zovitowski
---

All parties involved are innocent, until proven guilty in a court of law. We can only provide information that IS provided to us.  As you know, the local police encrypted and are not transparent. Some information may not be accurate. If there are any errors please let us know so we can try to possibly correct the errors.  Several people have asked questions, and we have tried to answer as many as possible on our FAQ page.  You can follow us on Twitter, Youtube, Facebook. 
UPDATE: Viewer discretion is advised.
Video by RS sourceDuane Zovitowski