---
NWS releases more information on the possibility of severe weather on Saturday. 
Be sure to have your Weather radios turned on!
The models are showing very favorable conditions for the possibility of severe weather in our area.
(At the time of writing this)
All of the weather types: Heavy rain, winds, hail, and even the chance of a few tornadoes. They said some might even be strong.
Below is some graphics and information from the NWS and SPC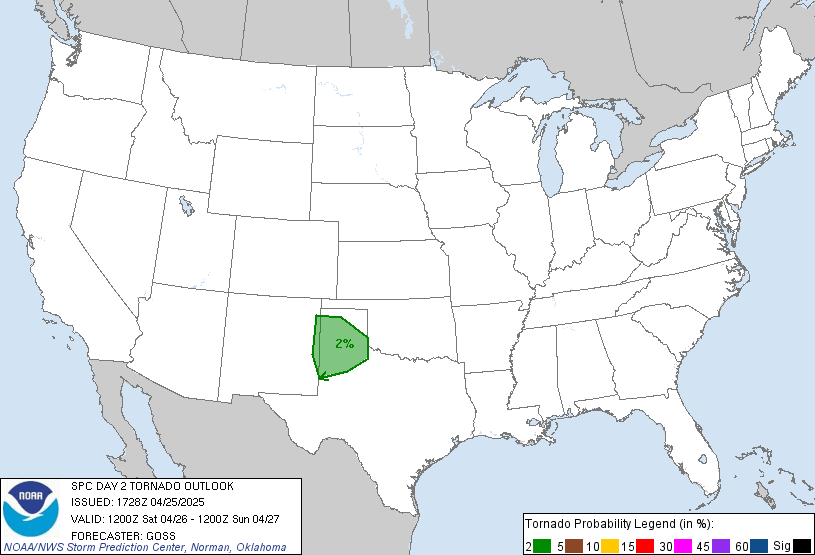 ...SUMMARY...
   A significant severe weather outbreak is possible for portions of
   the middle Mississippi Valley on Saturday.  The threats with the
   stronger storms include tornadoes, a few which may be significant,
   large to very large hail, and severe gusts.

   ...Synopsis...
   The most prominent feature within the upper flow pattern over the
   U.S. Saturday will be a strong short-wave trough shifitng
   northeastward across the Plains, and evolving into a compact closed
   low.  This low should reside over the mid Missouri Valley during the
   afternoon, and then continue moving northeastward to a position over
   Wisconsin by the end of the period.

   At the surface, a low initially over Kansas is expected to move
   steadily northeastward in conjunction with the evolving upper low --
   occluding as it does.  The low should reside over Iowa by late
   afternoon/early evening, and northeastern Wisconsin by the end of
   the period.  A warm front extending east from the evolving low
   should reside over the Midwest through the daylight hours before
   advancing northward into the Great Lakes overnight, while a cold
   front shifts out of the Plains and across the Mid Mississippi Valley
   through late afternoon/early evening, and then the
   Ohio/Tennessee/lower Mississippi Valleys overnight.  A significant
   severe-weather event is expected across the northern Illinois area
   and portions of adjacent states -- focusing during the afternoon and
   early evening hours.

   ...Eastern IA and northeastern MO eastward to OH...
   A rapidly evolving environment will characterize the ENH and MDT
   risk areas -- i.e. the Middle Mississippi Valley area -- during the
   first half of the period, as the upper system closes off and the
   surface low deepens, and eventually occludes.  Early-period
   convection across the risk area is forecast to shift northeastward
   and dissipate, allowing heating -- in conjunction with rapid
   steepening of mid-level lapse rates -- to yield moderate
   destabilization.  New storm development is forecast to occur during
   the mid afternoon time frame in the far eastern Iowa/far
   northeastern Missouri/northwestern Illinois area, and cellular mode
   is anticipated.

   Pronounced low-level veering in the wind field -- particularly in
   the vicinity of the warm front over northern Illinois -- is
   expected, with flow increasing to southwesterly at near 100kt at mid
   levels, as the upper system approaches.  The resulting shear will be
   strongly supportive of strong updraft rotation -- and thus attendant
   risk for tornadoes, a few of which could be significant.  Very large
   hail will also be possible given updraft intensity -- aided by the
   very steep lapse rates aloft and strength of the shear profile. 
   Locally damaging downburst winds will also be possible locally, with
   the stronger storms.  Peak tornado risk through late afternoon
   should begin to gradually diminish into the evening, as diurnal
   cooling begins.  Still, severe risk -- including potential for large
   hail with elevated storms north of the warm front -- will likely
   continue through the evening before decreasing overnight.

   ...KY and TN southwestward to the Lower MS Valley area...
   A band of showers and thunderstorms is progged to gradually evolve
   ahead of the advancing cold front -- from far East
   Texas/northwestern Louisiana northeastward across the Mid
   Mississippi/Lower Ohio Valleys during the afternoon.  The storms
   will evolve as diurnal heating of the moist pre-frontal boundary
   layer yields increasing CAPE, and increasing large-scale ascent
   helps to erode a residual warm layer aloft.  

   Despite modest low-level veering, deep-layer shear will support
   organized/rotating storms -- with increasing risk with northward
   extent across the Tennessee Valley and into the Ohio Valley region
   through the afternoon/early evening.  Damaging winds and hail will
   likely be the primary risk, though a couple of tornadoes will be
   possible -- particularly nearer the Ohio Valley.  Risk should
   gradually diminish beginning in the evening and into the overnight
   hours.
---
Keep Scrolling down for the NWS video 
---
Days 1, 2, and 3
Overview: Convective outlooks for days 1, 2, and 3 consist of categorical and probabilistic graphics that depict severe and general thunderstorm threats across the continental United States, along with a text narrative.
Graphical categorical risk: Using numbers, words, and colors, the categorical graphic depicts general thunderstorm areas (TSTM-light green) and up to five risk types (1-MRGL-dark green, 2-SLGT-yellow, 3-ENH-orange, 4-MDT-red, and 5-HIGH-magenta) based on the coverage and intensity of organized severe weather such as supercells, squall lines, and multicell thunderstorm complexes. Pulse type thunderstorms, consisting primarily of solitary brief severe updrafts (often found in weakly sheared environments), are not considered organized.
The TSTM area encloses where a 10% or higher probability of thunderstorms is forecast during the valid period. A 1-MRGL-dark green risk area includes severe storms of either limited organization and longevity, or very low coverage and marginal intensity. A 2-SLGT-yellow risk area implies organized severe thunderstorms are expected, but usually in low coverage with varying levels of intensity. A 3-ENH-orange risk area depicts a greater concentration of organized severe thunderstorms with varying levels of intensity. A 4-MDT-red risk indicates potential for widespread severe weather with several tornadoes and/or numerous severe thunderstorms, some of which may be intense. A 5-HIGH-magenta risk area suggests a severe weather outbreak is expected from either numerous intense and long-track tornadoes, or a long-lived derecho system with hurricane-force wind gusts producing widespread damage.
Graphical probabilistic risk: The probability of severe weather drives the outlook categories, with the tables below showing the conversion for each threshold. On days 1 and 2, the outlook contains individual severe probabilities for tornadoes, wind, and hail. With greater uncertainty about severe-storm type into the future, the outlook on day 3 only forecast the combined probability of all three types of severe weather. For all outlooks, the probability values represent the chance of severe weather occurring within 25 miles of any point, which is about the size of a major metropolitan area.
As an example, if you have a 15% probability for tornadoes, this means you have a 15% chance of a tornado occurring within 25 miles of your location. This may seem like a low number, but a tornado is very uncommon at any one location. Normally, your chances of getting hit by a tornado or other severe weather are small, purely based on statistical average. Let's say you have a 1% statistical (climatology) history of tornadoes within 25 miles on this day, which still is large. Having a 15% probability means 15 times the normal odds of a tornado nearby, meaning it should be taken seriously. The probabilities for severe thunderstorm wind and hail also have the same meaning as they do for tornadoes, but typically will be higher numbers than for tornadoes, since they are much more common.
Sometimes, a black hatched area will be overlaid with the severe probabilities. Black hatching means a 10% or higher probability for significant severe events within 25 miles of any point. "Significant" is defined as: tornadoes rated EF2 or greater, thunderstorm wind gusts of hurricane force (74 mph) or higher, or hail 2 inches or larger in diameter.
The outlook on day 3 combine all forms (tornado, wind, and hail) into a single black hatched area for a 10% or higher significant-severe risk. In addition, for tropical cyclones (hurricanes, tropical storms and depressions), the outlook on day 3 allows a 5% total severe probability to be a SLGT risk because they are specifically tornado-driven.
Text narrative: The outlook text begins with a listing of severe thunderstorm risk areas by state and/or geographic region, followed by a succinct summary of the type(s) of threat along with timing that is focused on the highest-risk areas. The rest of the outlook text is written in scientific language for sophisticated users. A synopsis section is usually included and gives a general overview of the weather pattern, emphasizing features that will influence the severe and general thunderstorm threats. The narrative technical discussion is usually separated by geographic areas. Within these individual geographic areas, the text offers meteorological reasoning and justification for the type of coverage and intensity attendant to the severe weather threat.
Day 4-8
Overview: The Day 4-8 Severe Weather Outlook consists of probabilistic forecasts depicting the severe weather threat with a separate graphic for each day, along with a text narrative for the entire period. This outlook is issued once a day by 400 am CST/CDT and covers the period of 72 to 192 hours from 1200 UTC on the morning of product issuance.
Graphical probabilistic risk: Two probabilistic thresholds of 15% and 30% can be forecast. Highlighted areas are equivalent to 2-SLGT-yellow or 3-ENH-orange risks on the Day 1-3 Convective Outlooks. On rare occasions, the outlook text will begin with a headline for the possibility of a severe weather outbreak. If no 15% areas are forecast, one of the following phrases will be used:
PREDICTABILITY TOO LOW: Used to indicate severe storms may be possible based on some model scenarios. However, the location or occurrence of severe storms is in doubt due to large spread in model guidance and/or minimal run-to-run continuity.
POTENTIAL TOO LOW: Used to indicate that 15% or greater severe probabilities appear highly unlikely on that day.
Text narrative: The outlook text is written in scientific language for sophisticated users with a technical discussion that offers a general overview of the weather pattern that will influence the severe thunderstorm threat during the entire 5-day period, along with meteorological reasoning and justification. The text narrative is provided regardless of whether severe thunderstorm areas are included. On rare occasions, the outlook text will begin with a headline for the possibility of a severe weather outbreak.
https://www.spc.noaa.gov/misc/SPC_probotlk_info.html
---
If you have information on this, you can contact us at RockfordScanner@Gmail.com
We will keep you anonymous.
If you do not want to contact the police directly, you can contact us  and we will relay your information to the proper agencies if needed, and keep you anonymous. http://rockfordscanner.com/contact-us/
---



Disclaimer: As you know the local police have encrypted, have not released any information, etc…
They rarely ever do release information to the public, since encrypting. So do not expect any updates.
The information that is posted was provided to us via various sources. So we can not guarantee the accuracy of this article.
We can only provide you the information that IS provided to us. If police and/or officials do release information, we will try to update this.
If you know of any corrections or errors, please contact us.
This is for entertainment purposes only.