---
---
You can follow us on Twitter, Youtube, Facebook.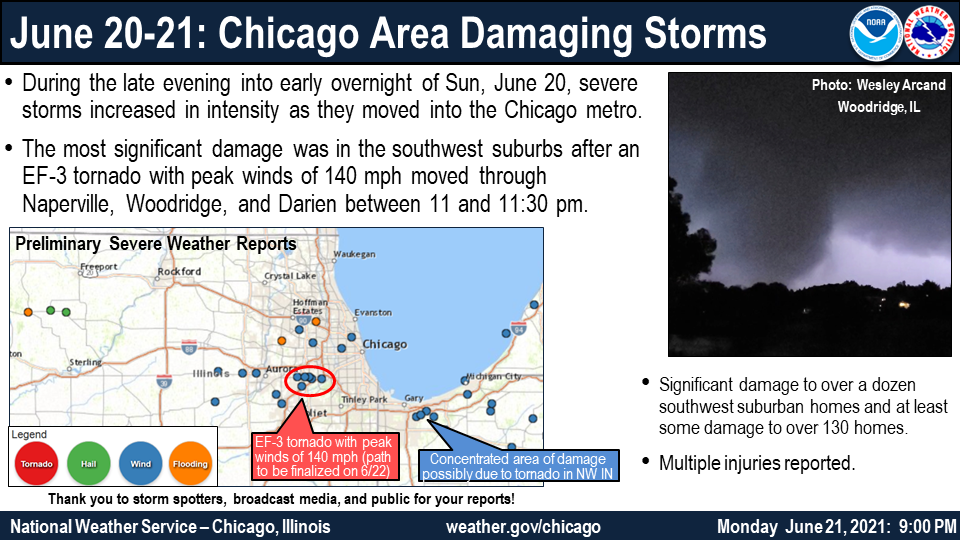 4:15 PM Update: Our damage survey team found the EF-3 tornado that impacted Naperville, Woodridge, Darien, and Willow Springs had a track approximately 16.1 miles long and max width of ~1/3 of a mile.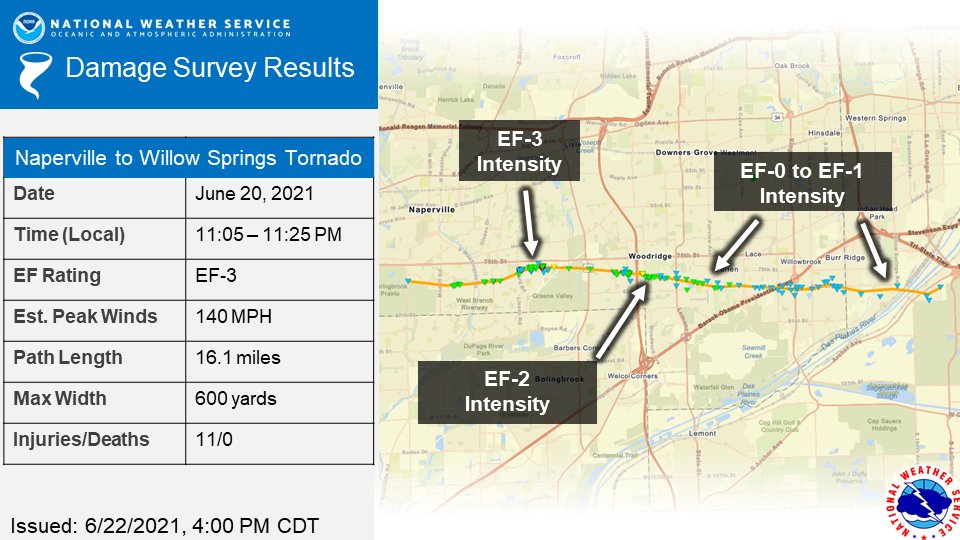 Fast Facts:
Summary:
During the late evening into early overnight of Sunday, June 20, storms increased in intensity rapidly as they moved toward and into the Chicago metropolitan area, with damaging winds and tornadoes.
The most significant storm damage occurred in the southwest suburbs of Naperville, Woodridge, Darien, Burr Ridge, and Willow Springs between 11:00 and 11:30 pm, where a preliminary EF-3 tornado tracked through the area. The tornado damage survey for this tornado has not yet been completed, with additional details likely determined on June 22. 
The EF-3 tornado caused damage to ~230 residences, utility poles, and many trees.
No fatalities were reported. There were at least 11 injuries in Naperville and Woodridge that required medical treatment. There were many other minor injuries that were treated on scene.
This is the first significant tornado (rating of EF-2 or greater) to occur in the NWS Chicago County Warning Area since February 28, 2017 (Naplate/Ottawa) and the first EF-2+ tornado to occur in the Chicago metro counties since June 22, 2015 (Coal City). A list of EF-2+ tornadoes in the Chicago metro can be found here. This is accessible on our tornado climatology for the area here.
An EF-0 tornado with peak winds of 85 mph and path length of 3.2 miles touched down in Plainfield and lifted in Romeoville. Tree damage was common along the path of the tornado.
There were also other areas of rotation and some with damage occurring and these may also have been tornadoes. Most of these looked much more brief, although in far northwest Indiana there was sustained rotation from near Hobart to South Haven and eastward. Information about these potential tornadoes will be posted within the next few days.
---
Tornado #1: Naperville to Willow Springs EF-3 
An NWS Damage Survey team continues to finalize survey data for a tornado path that started in Naperville and ended in Willow Springs, Illinois, during the evening of June 20, 2021. The majority of damage along the path is consistent with wind speeds corresponding to the EF-1 to EF-2 ratings on the Enhanced Fujita Scale.
However, at least one pocket of damage consistent with an EF-3 rating with peak winds speeds near 140 mph was found near Princeton Circle in Naperville. This rating is preliminary.
Additional information about the tornado will be released on June 22, 2021.
Summary: 
The approximate starting location of the tornado was near Plainfield-Naperville Road and Sheppey Court at about 11:05 PM. Sporadic wind damage was found both west and east of this point before the path became more concentrated and continuous east of Modaff Road. The tornado gradually intensified as it tracked east and especially east of Naper Boulevard where damage to homes became common. The tornado reached peak intensity in the area around Princeton Circle in Naperville where a house completely collapsed and multiple nearby homes also sustained considerable damage to their roof and walls. From that location the tornado continued east across the Greene Valley Forest Preserve into Woodridge. Another area of concentrated damage occurred between Woodridge Drive and Basswood Lane in Woodridge where numerous homes lost several walls and apartment buildings lost large portions of roofing material. The tornado continued east-southeastward producing primarily tree damage from Lemont Road into southern Darien, across Interstate 55, and southern Burr Ridge. The damage path became narrow as it crossed the Des Plaines river into Willow Springs, after which point the tornado dissipated near Buffalo Woods at approximately 11:25 PM CDT. In total, around 230 homes sustained damage from the tornado with the most significant damage in Naperville and Woodridge, and at least 11 people required medical treatment.
Tornado #2: Plainfield to Romeoville EF-0
Summary:
An NWS Damage Survey found sporadic tree damage consistent with straight-line winds in the vicinity of Meadow Lane between 143rd Street and Lockport Street eastward to Illinois Route 59 in Plainfield. A concentrated swath of significant tree damage consistent with an EF-0 tornado with peak wind speeds of 85 mph was evident beginning near the intersection of Illinois Routes 59 and 126 just north of downtown Plainfield and extending eastward through adjacent neighborhoods. The path of primarily tree damage continued east-southeast through the Lake Renwick Preserve, crossing Interstate 55 just south of Lockport Street. A path of sporadic tree damage was found in the fieldstone neighborhood in Romeoville around Helen Drive, with the damage path ending over Mistwood Golf Club. Areas just south of the tornado track experienced straight-line wind damage, as well.
Tornado #3: South Haven EF-0
Summary:
An NWS damage survey, along with information relayed by the Porter County Emergency Management Agency, indicate a swath of straight-line wind damage extended form Hobart to the Robbinhurst Golf Club just north of South Haven. A small outbuilding was heavily damaged near the gulf club, but tree damage in the area was directed entirely in an east to east-northeast direction. Damage became more concentrated in a localized area immediately east of north State Road 149 and north of West County Road 875 North where a large tree was uprooted and several residences exhibited minor shingle loss consistent with an EF-0 tornado. This tornado tracked northeast where it continued to produce sporadic damage to trees near north County Road 150 before damage dissipated near North Meridian Road and East County Road 950. Sporadic minor tree damage persisted east of State Road 49.
The Enhanced Fujita (EF) Scale classifies tornadoes into the following categories:
EF0
Weak
65-85 mph
EF1
Moderate
86-110 mph
EF2
Significant
111-135 mph
EF3
Severe
136-165 mph
EF4
Extreme
166-200 mph
EF5
Catastrophic
200+ mph
---
Preparedness: While there was a fairly fast-moving tornado in the densely populated southwest Chicago suburbs and after dark, the number of serious injuries was relatively small. This, at least in part, had to do with preparedness and people taking action when the warnings were issued. It is a reminder too on the importance of having multiple means to receive a warning. For more on severe weather preparedness, see here.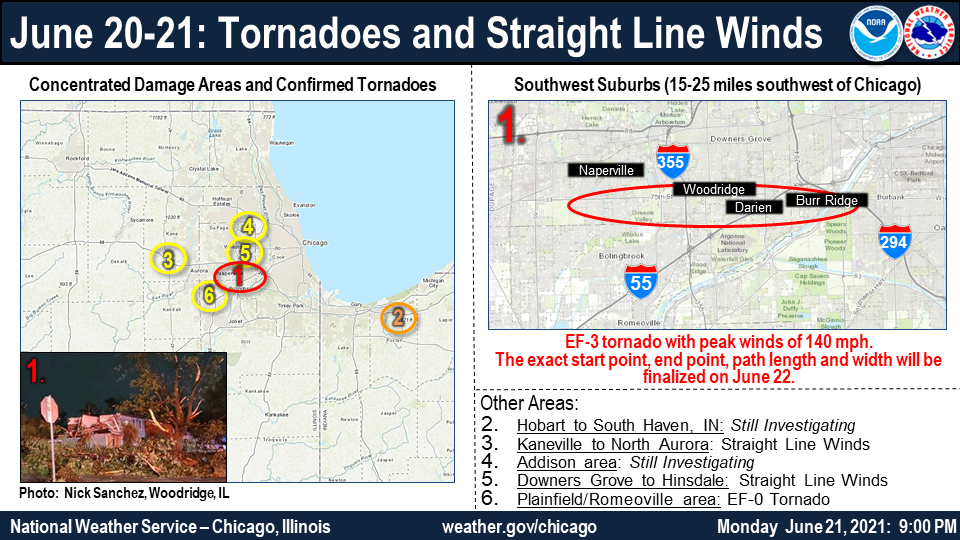 Source NWS
---
All parties involved are innocent, until proven guilty in a court of law.

As you know, the local police encrypted and are not transparent.

Some information may not be accurate. If there are any errors please

let us know so we can try to possibly correct the errors. 
Several people have asked questions, and we have tried to answer as many as possible on our FAQ page.