---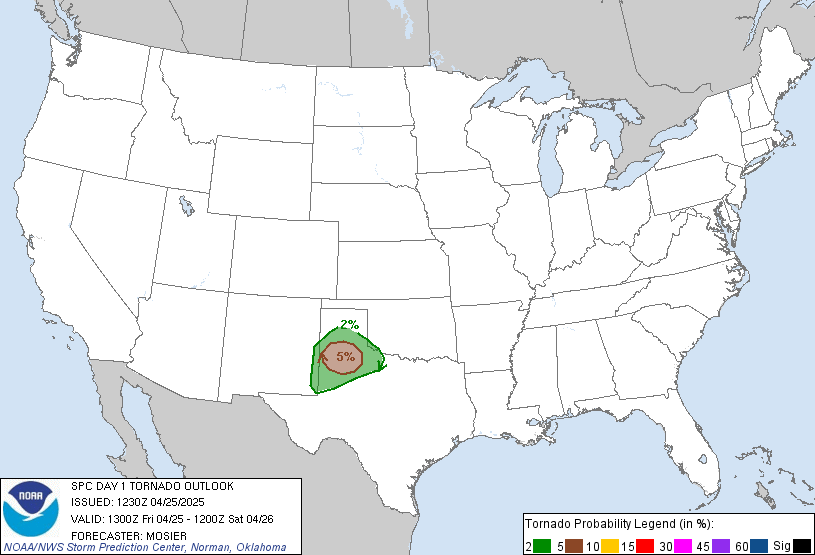 Thunderstorms Likely Today, Scattered Severe Possible.
Temperatures will warm up quickly in inland areas today, reaching the lower to even possibly mid 70s. This warmth along with an approaching weather system will provide the potential for mid-late afternoon storms and most likely early to mid-evening storms. Some of these storms could be severe, especially in the yellow shaded area. Storms will move out of the area by midnight.
Valid 281300Z - 291200Z

   ...THERE IS A MODERATE RISK OF SEVERE THUNDERSTORMS ACROSS PARTS OF
   EASTERN OKLAHOMA...FAR WESTERN ARKANSAS AND NORTHEAST TEXAS...

   ...SUMMARY...
   Widespread severe thunderstorms are expected to develop this
   afternoon and evening across parts of the Ozarks into the southern
   Plains. Damaging winds with gusts possibly exceeding 65 mph, very
   large hail and a few tornadoes can be expected.

   ...Southern Plains/Arklatex/Ozarks/Mid to Upper Mississippi
   Valley...
   An upper-level trough will dig southeastward from the northern
   Plains into the central Plains today. An associated mid-level jet
   will dive southeastward into the central Plains. The leading edge of
   the stronger mid-level flow associated with the jet will overspread
   a corridor of maximized low-level moisture located from northeast
   Texas north-northeastward into the Ozarks. Moisture advection ahead
   of the system, will increase surface dewpoints into the 60s F across
   most of Oklahoma, Arkansas and Missouri by afternoon. In response to
   surface heating, the moisture will contribute to moderate
   destabilization with MLCAPE values reaching the 2000 to 4000 J/kg
   range across parts of the moist sector. Thunderstorms are forecast
   to first initiate to the south of a surface low on the northern edge
   of the moist airmass in eastern Iowa around midday. Thunderstorms
   will then likely develop south-southwestward along a cold front from
   northern Missouri into southeast Kansas during the afternoon. This
   convection is forecast to grow upscale as a squall line organizes
   and moves south-southeastward across the southern Plains and Ozarks.
   The moisture and instability combined with strong deep-layer shear
   will be favorable for severe thunderstorms across a widespread area.

   RAP forecast soundings along the most unstable parts of the front
   during the late afternoon increase MLCAPE into the 3000 to 4000 J/kg
   range and show 0-6 km shear generally from 30 to 40 kt. This
   environment will support supercells with large hail, especially
   early in the event before the squall line becomes organized. The
   potential for supercells with hailstones greater than 2 inches in
   diameter is expected to be greatest from far southeast Kansas into
   central Oklahoma and far northern Texas where instabilty is forecast
   the strongest. Supercells early in the event may also be accompanied
   by a tornado threat. The tornado threat is expected to be greatest
   across eastern Oklahoma and far western Arkansas where a low-level
   jet will strengthen during the late afternoon and early evening.
   Forecast soundings in this area increase 0-3 km storm relative
   helicities into the 250 to 400 m2/s2 range suggesting a more
   substantial tornado threat will be possible. For this reason, have
   added a 10 percent tornado probability contour across parts of the
   moderate risk area.

   Increasing low-level convergence during the early evening along the
   front should gradually result in the development of a nearly
   continuous squall line. This squall line is forecast to become more
   organized as it moves southward across southwest Missouri, western
   Arkansas and east-central Oklahoma. Wind damage will be likely along
   the leading edge of the squall line. Wind gusts over 65 kt will be
   possible ahead of the faster moving parts of the squall line. A few
   tornadoes may also occur with rotating cells embedded in the line. A
   widespread wind damage threat should continue into parts of
   north-central and northeast Texas during the mid to late evening
   before a gradual weakening takes place due to overnight decreasing
   instability.

---
If you have information on this, you can contact us at RockfordScanner@Gmail.com
We will keep you anonymous.
If you do not want to contact the police directly, you can contact us  and we will relay your information to the proper agencies if needed, and keep you anonymous. http://rockfordscanner.com/contact-us/
---



Disclaimer: As you know the local police have encrypted, have not released any information, etc…
They rarely ever do release information to the public, since encrypting. So do not expect any updates.
The information that is posted was provided to us via various sources. So we can not guarantee the accuracy of this article.
We can only provide you the information that IS provided to us. If police and/or officials do release information, we will try to update this.
If you know of any corrections or errors, please contact us.
This is for entertainment purposes only.