---
---
You can follow us on Twitter, Youtube, Facebook.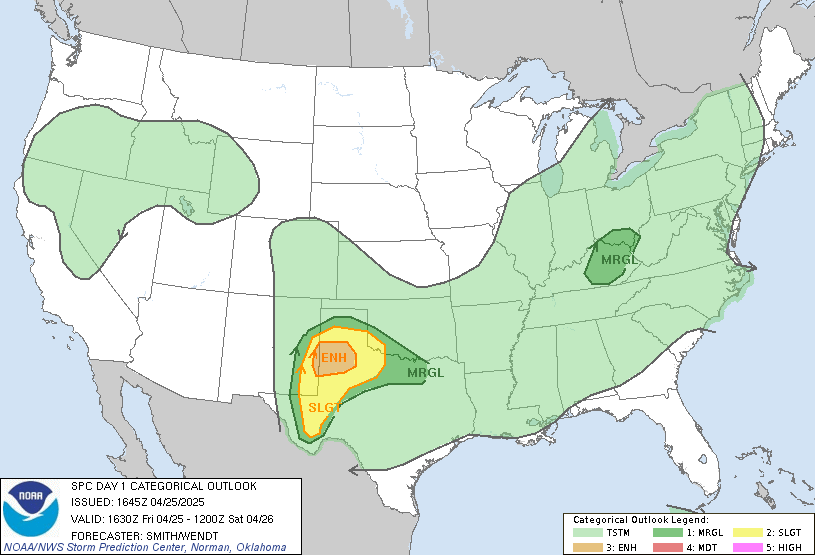 …THERE IS AN ENHANCED RISK OF SEVERE THUNDERSTORMS THIS AFTERNOON
INTO EARLY TONIGHT FOR EASTERN IA…NORTHERN IL…AND SOUTHERN WI…
…SUMMARY…
Severe thunderstorms capable of wind damage and isolated large hail
will be possible across a broad portion of the Midwest and Great
Lakes region, especially this afternoon and evening.
Locally severe
wind gusts will also be possible in parts of the Ohio Valley and
central Appalachians/Northeast States.
…Parts of the upper/middle MS Valley through tonight…
A complex scenario is expected today, with corresponding
predictability concerns. On the larger scale, a midlevel shortwave
trough will eject east-northeastward over northern MN today, as an
upstream trough digs southeastward over SK/MB. A surface front/wind
shift associated with the ejecting trough will move
eastward/southeastward across MN/IA before stalling late today.
Farther south, a convectively-enhanced midlevel trough approaching
southwest IA will continue eastward today, and a loosely organized
cluster of storms is ongoing along I-70 in MO. It is possible that
outflow with this cluster will be the impetus for more intense
convection this afternoon farther east in northeast MO/west central
IL, as well as with the convectively-enhanced wave interacting with
the stalling front later this afternoon toward northeast IA.
A reservoir of large buoyancy (MUCAPE greater than 4000 J/kg) is
present across the Corn Belt per 12z soundings, based on 7.5-9 C/km
midlevel lapse rates and lowest 100-mb mean mixing ratios of 17-19
g/kg (near-surface dewpoints in the mid-upper 70s). Given the
aforementioned possibilities of more than one storm cluster and the
area of large to extreme CAPE, have expanded the higher damaging
wind probabilities farther south into MO/IL. Lapse rate profiles
will favor both intense updrafts and downdrafts, with the potential
for a swath or two of damaging winds (possibly up to 75-80 mph),
though rather modest vertical shear casts some doubt on the
organization and longevity of any storm clusters.
…Eastern OH/PA/NY this afternoon/evening…
A midlevel trough with embedded perturbations will continue eastward
today from the lower Great Lakes toward PA/NY. Convection is
ongoing in a band across east central OH, where there is some
potential for a few damaging outflow gusts in the short term.
However, the storms are moving toward and area of weaker buoyancy,
which casts doubt on the damaging-wind potential through the
afternoon (refer to MD 1459 for additional details). Otherwise, a
few loosely organized storm clusters/bands are expected in advance
of these embedded perturbations into NY/PA, where MLCAPE near 1000
J/kg and a modest increase in flow/shear in the 850-500 mb layer
will support multicell clusters capable of producing isolated wind
damage.
---
All parties involved are innocent, until proven guilty in a court of law.

As you know, the local police encrypted and are not transparent.

Some information may not be accurate. If there are any errors please

let us know so we can try to possibly correct the errors. 
Several people have asked questions, and we have tried to answer as many as possible on our FAQ page.