---
---
You can follow us on Twitter, Youtube, Facebook.
NWS Severe Thunderstorm Warnings will now better convey thunderstorm severity & potential impacts from wind & hail. For example, warnings for the derecho on Aug 10, 2020 would now trigger widespread smartphone Wireless Emergency Alerts.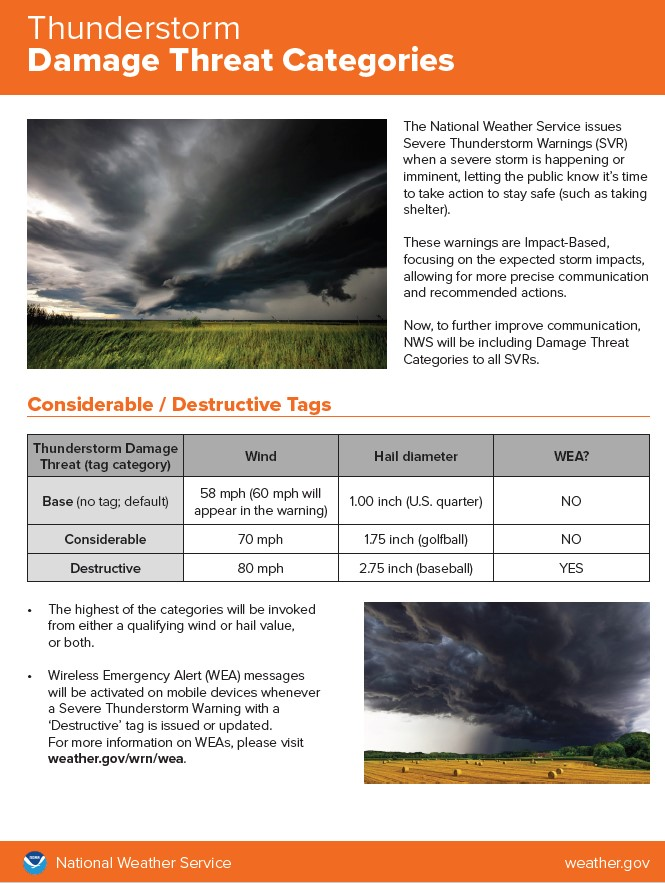 https://www.weather.gov/lot/SevereThunderstormWarningsUpdate
Severe thunderstorms can be life-threatening, but not all severe storms are the same. Hazardous conditions range from tornadoes, large hail storms, and widespread straight-line winds called derechos, to cloud-to-ground lightning and flash flooding.
As of August 3, the National Weather Service will better convey the severity and potential impacts from thunderstorm winds and hail by adding a "damage threat" tag to Severe Thunderstorm Warnings, similar to our Tornado and Flash Flood Warnings.
Three categories of damage threats for Severe Thunderstorm Warnings were developed. The categories, in order of lowest to highest damage threat, are base, considerable, and destructive. These tags and additional messaging are designed to promote immediate action based on the threats.
Here are the three categories:
The criteria for a baseline or "base" severe thunderstorm warning remains unchanged: 1.00 inch (quarter-sized) hail and/or 58 mph thunderstorm winds. This will not activate a Wireless Emergency Alert (WEA) on smartphones. When no damage threat tag is present, damage is expected to be at the base level.
The criteria for a considerable damage threat is at least 1.75 inch diameter (golf ball-sized) hail and/or 70 mph thunderstorm winds. This will not activate a WEA.
The criteria for a destructive damage threat is at least 2.75 inch diameter (baseball-sized) hail and/or 80 mph thunderstorm winds. Warnings with this tag will automatically activate a (WEA) on smartphones within the warned area.
---
All parties involved are innocent, until proven guilty in a court of law.

As you know, the local police encrypted and are not transparent.

Some information may not be accurate. If there are any errors please

let us know so we can try to possibly correct the errors. 
Several people have asked questions, and we have tried to answer as many as possible on our FAQ page. 
Source NWS