---
---
---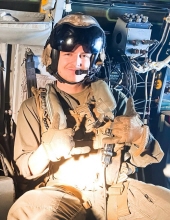 Let's take a few moments and remember a local hero.
Corporal Nathan Carlson was born in Rockford, Illinois. He graduated from Harlem High School in 2019 where he was captain of the swim team. Upon graduation, he enlisted into the Marine Corps and attended Marine Corps Boot Camp at Marine Corps Recruit Depot San Diego. He graduated boot camp in August of 2019 and officially earned the title of Marine.
Private First Class Carlson then reported to the School of Infantry in Camp Pendleton, CA where he attended Marine Combat Training (MCT). Upon completing MCT, he attended Naval Aircrew candidate School in Pensacola, FL where he received water survival training. In January of 2020 he reported to the Center of Naval Aviation Technical Training (CNATT) at Marine Corps Air Station New River where he learned the basic technical skills of a MV-22B mechanic. Upon graduating CNATT, he went to Marine Air Group 26 (MAG-26) for initial crew chief training on the MV-22B at Marine Medium Tiltrotor Training Squadron 204. On September 11, 2020, Lance Corporal Carlson was winged and officially became a Naval Aircrewman.
Lance Corporal Carlson then reported to MAG-39, Marine Medium Tiltrotor Squadron 364 (VMM-364) in September 2020. It was here that he was promoted to the rank of Corporal and served as a leader in the Flight Line Division as a Basic Instructor Crew Chief and Plane Captain.
In October 2020, Corporal Carlson participated in Service Level Training Exercise 21-1. In April 2021 he deployed with the squadron to Special Purpose marine Air Ground Task Force – Crisis Response – Central Command based out of Al Jaber Air Base, Kuwait and Prince Sultan Air Base, Saudi Arabia. Upon returning from deployment, Corporal Carlson married the love of his life, Emily Baxter.
He would go on to begin training to become a Low Altitude Tactics instructor, Night Systems instructor, Tail Gunnery Instructor, as well as a Collateral Duty Inspector. Corporal Carlson was able to amass over 500 total flight hours and over 70 combat hours while at VMM-364.
Corporal Carlson is survived by his wife, Emily Baxter-Carlson; his parents, Karrie and Eric Carlson; and his sisters, Casey and Mylee Carlson and many close family and friends. Nathan will forever be remembered as a loving husband, son, brother, grandson, nephew, cousin and friend.
Funeral Service will be held Saturday, July 2, 2022, from 2:30 – 3:30 p.m., with a Marine fly over following the service, at Harlem High School, 1 Huskie Circle, Machesney Park, IL 61115.
In lieu of flowers memorials may be made in Nathan's honor to the Harlem High School Swim Team, 1 Huskie Circle, Machesney Park, IL 61115 or the Wingman Foundation, wingmanfoundation.org
You can read the full obituary, and post a tribute at:
https://www.fitzgeraldfh.com/obituaries/CPL-Nathan-E-Carlson?obId=25161893#/obituaryInfo
---
According to a post I saw on Marine Cpl. Nathan Carlson's Escort Support FB page,  by Ryan N Liz
https://www.facebook.com/events/742239143718629/?active_tab=discussion
In regards to him being transported from O'Hare, to Winnebago County on June 30th.
"UPDATE: Remember, airline schedules change so be patient. June 30th, 2022 The following will take place.
Everyone wishing to be a part of the escort is to stage at the Tollway Maintenance Facility (M5) at the I90/290/53 interchange (Arlington Heights) area no later than 3:00 pm.
6/30
ONLY FAMILY IS ALLOWED AT O'HARE!!!
Everyone loading overpasses: Please be set and staged by 3:30pm.
I'll list the overpasses tomorrow that are safe and accessible.
Everyone staging at the Rt. 173 Exit. Be staged by 4:45pm.
173 West, to Alpine Rd South, veer Right on Forest Hills South, to West on Riverside to Loves Park City Hall.
Let's show Corporal Carlson's family just how much we loved and appreciated the sacrifice their son made.
Let's welcome Cpl. Carlson and his family, with signs and our beautiful American flag!!!
---
JUL 2
Funeral Service
Saturday, July 02, 2022
2:30PM – 3:30PM
Harlem High School
1 Huskie Circle
Machesney Park, IL 61115
---
---
---
You can follow us on Twitter, Youtube, Facebook.
See a scene,
Snap a photo or video of the scene,
Send it to us at RockfordScanner@Gmail.com
All parties involved are innocent, until proven guilty in a court of law.

As you know, the local police encrypted and are not transparent.

Some information may not be accurate.
If there are any errors please let us know so we can try to possibly correct the errors. 

DO NOT go to a scene. Avoid the area.

Do NOT post the names of those involved in the comments. 

Several people have asked questions, and we have tried to answer as many as possible on our FAQ page. 

Sources: If the source is not listed above, then that means the source wanted to remain anonymous. 

Due to police encryption and the lack of transparency, we can not confirm any information that is posted. 




If officials do release information, and we become aware of it. We will try to update the posts. 

All our information is for entertainment purposes only.  

If something is not posted, then we are probably not aware of it. Email us at RockfordScanner@Gmail.com

You must read all our terms and services and the disclaimers below and agree to all of them. If not, then leave.