---
CLICK HERE for the Rockford Scanner Weather Page
---
Snowpocolypse

2020




Not Really, Relax! 
Some people are beginning to hype up this winter storm that is headed our way.  We want to stress that there are still many factors that still play a factor in what happens and the path the storm will take and what we will get from the storm.   So again, RELAX.  
NWS has issued a Winter Storm WATCH for us.   
That means conditions are favorable for for a storm in the area. Below is a graphic the NWS has issued explaining it.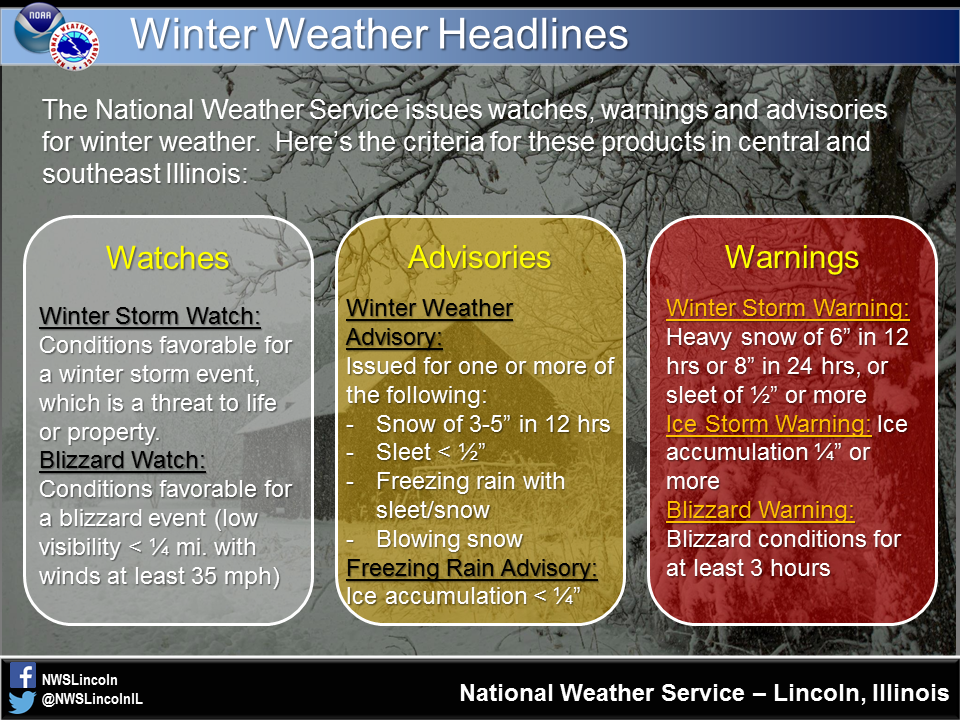 As of right now at the time of posting this, the NWS issued a Winter Storm WATCH for us.  
They said: Multiple precipitation types are possible with this weekend's winter storm. Here is a timeline indicating the expected precipitation type for several locations across the local area. Overall, areas north and west of I-55 will see rain change over to ice Friday evening into Saturday night. Expect rain to transition over to snow Saturday evening with snow ending by early Sunday morning.
An impactful winter storm is expected across the region Friday night through Saturday night. The potential exists for significant impacts from freezing rain, sleet, and snow. Icing is possible especially for areas north and west of I-55 beginning Friday evening through early Saturday morning as sub-freezing temps move into the area. Ice accumulations up to 0.1-0.25" are possible. Rain/sleet will transition to snow by Saturday evening. Snowfall amounts increase north and west of Chicago with 4 to 6+ inches of accumulation possible.
---
If you have information on this, you can contact us at RockfordScanner@Gmail.com
We will keep you anonymous.
If you do not want to contact the police directly, you can contact us  and we will relay your information to the proper agencies if needed, and keep you anonymous. https://rockfordscanner.com/contact-us/
---



Disclaimer: As you know the local police have encrypted, have not released any information, etc…
They rarely ever do release information to the public, since encrypting. So do not expect any updates.
The information that is posted was provided to us via various sources. So we can not guarantee the accuracy of this article.
We can only provide you the information that IS provided to us. If police and/or officials do release information, we will try to update this.
If you know of any corrections or errors, please contact us.
This is for entertainment purposes only.