---

UPDATE: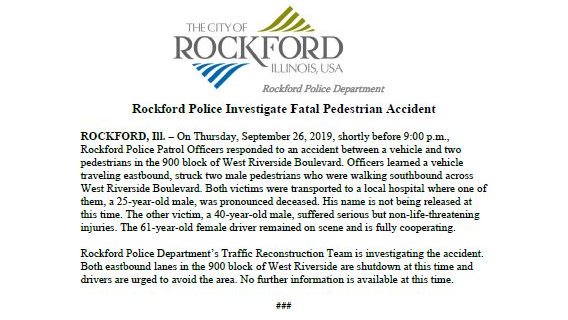 ---
RPD talked to WTVO but refused to talk to Rockford Scanner.  We called the media line, the man on the other end did not identify himself and said he wasn't going to release any information to us.
So we can only run the information that IS provided to us. And that is a White vehicle hit 2 pedestrians near the Mcdonalds on W Riverside.  One victim has died. He is approx 25 years old. The other s in serious condition. He is approx 40 years old.  We were told by witnesses the white vehicle hit the 2 pedestrians, dragging one of the victims for some length, before pulling over into the parking lot of the Mcdonalds.  We can confirm the blood on the pavement where the initial impact was, was some distance to where the victim ended up. The victims shoe was in the roadway some distance away from the initial impact scene as well.
Again, RPD has refused to talk to Rockford Scanner, so we can not confirm anything at this time.  If the RPD chooses to release any information, we will update this later on.

---

They are doing CPR on one of the victims. Life threatening injuries are being reported on one of the victims. The victim is a male approx. 25 years old.
---
Sources are reporting several emergency personnel working a scene in Rockford.  It happened just before 9 pm tonight near W Riverside near the Mcdonalds (Near N Main)
Reports of one vehicle that has struck two pedestrians.
Unknown on the severity of the injuries at this time.
Reports of the vehicle that has hit the pedestrians, has stayed on scene.
Still developing

---