---
---
You can follow us on Twitter, Youtube, Facebook.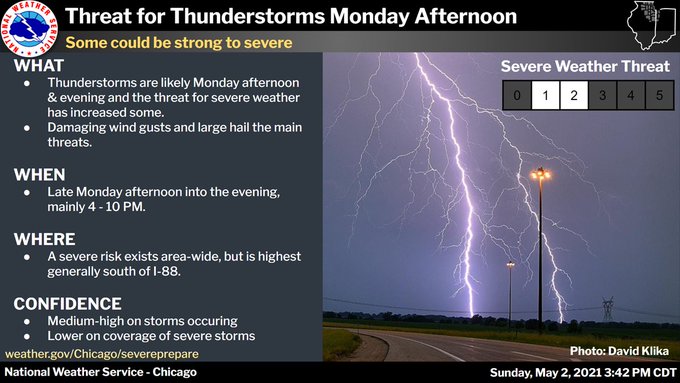 Thunderstorms are expected Monday afternoon and evening, some of which could become severe with a threat for damaging winds and large hail. The main severe threat window appears to be roughly 4 – 10 PM.
Showers expand in coverage mainly SE of I-55 tonight and will move east of the region mid-morning Monday. Additional storms are expected Monday aftn-evening. Some of these could be severe. Cooler conditions prevail thereafter with a few chances for showers.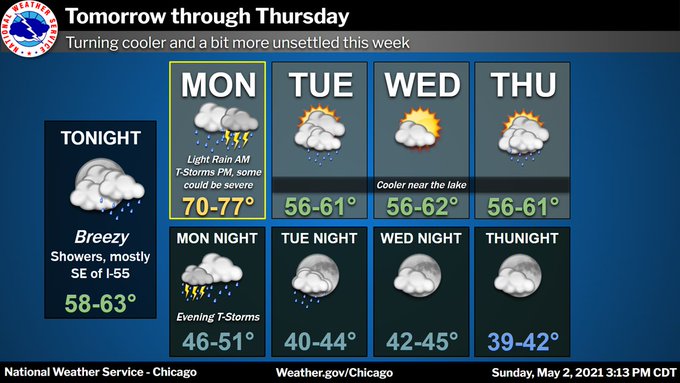 Credit/Sources: Wanted to remain anonymous. 
---
All parties involved are innocent, until proven guilty in a court of law. We can only provide information that IS provided to us.  As you know, the local police encrypted and are not transparent. Some information may not be accurate. If there are any errors please let us know so we can try to possibly correct the errors.  Several people have asked questions, and we have tried to answer as many as possible on our FAQ page.  You can follow us on Twitter, Youtube, Facebook.