---
UPDATE:
(AP) — A man suspected of fatally shooting a sheriff's deputy and wounding a woman at an Illinois hotel was taken into custody Thursday after an hourslong standoff that began when he crashed his vehicle along an interstate highway, authorities said.
Floyd E. Brown, 39, was arrested hours after the crash in central Illinois, State Trooper Sean Ramsey said. Officers employed flash grenades to disable Brown after trying for hours to negotiate with him to surrender, police said.
Brown, of Springfield, was taken to a hospital to be treated for several injuries. It wasn't immediately known what caused the injuries, Ramsey said.
Brown is accused of fatally shooting 35-year-old Deputy Jacob Keltner, a 12 ½-year veteran of the McHenry County Sheriff's Office in northern Illinois. Keltner was pronounced dead at a hospital several hours after he was shot, spokesman David Dezane said.
Police said a 25-year-old woman described as an acquaintance of Brown suffered injuries that weren't life-threatening after being hit with one of Brown's rounds. She was treated at a hospital and released.
No shots were fired by law enforcement during the incident, authorities said.
The shootings happened Thursday morning at a hotel as a U.S. Marshals Service fugitive task force tried to serve Brown with an arrest warrant for burglary and parole violation charges. Brown fled the hotel in Rockford in Winnebago County, about 80 miles (129 kilometers) northwest of Chicago, and traveled about 170 miles (274 kilometers) to Logan County in central Illinois, police said.
Prosecutors in Winnebago County in northern Illinois initially issued a warrant with $5 million bond against Brown for attempted murder. State's Attorney Marilyn Hite Ross said the charge was upgraded to first-degree murder after Keltner died. A spokeswoman for the U.S. attorney's office said Brown also will face a federal murder charge in the death of the deputy, who was assisting federal law enforcement when he was shot.
McHenry County Sheriff Bill Prim called Keltner a "great guy" whose father and brother serve in law enforcement in suburban Chicago.
"Jake was a fine young man who leaves a wife and two young children," Prim said. "We are going to miss him."
Keltner was the first officer in the department to die in the line of duty in three years, Prim said.
From 2009 to 2019, 73 officers were killed nationwide while attempting to serve warrants, according to the Officer Down Memorial Page, a nonprofit group that keeps track of officer fatalities nationwide.
---
ILLINOIS STATE POLICE PURSUE AND ARREST WANTED SUSPECT
After a Multi-County Pursuit and a Six- Hour Standoff Wanted Suspect is now in ISP Custody
Springfield, IL- On March 7, 2019, at approximately 9:15 a.m. Illinois State Police (ISP) officials responded to the Extended Stay America Hotel in Rockford, Illinois to assist with reports of an Active Shooter.
At some point during the ongoing incident at the hotel, the suspect fled the area in his vehicle. At approximately, 10:45 a.m., ISP District 6 Troopers spotted the suspect traveling on Interstate 39 at Milepost 8, and a pursuit ensued; during the pursuit, the suspect displayed a rifle. The pursuit lasted approximately thirty minutes at speeds well in excess of 100 mph in inclement weather and adverse road conditions. The pursuit came to an end on Interstate 55 at Milepost 132.5, after which ISP officers on scene struck the suspect's vehicle in an attempt to terminate the pursuit for the safety of the public.
After the suspect's vehicle was struck, the vehicle came to a rest in a ditch. The suspect exited and re-entered the vehicle, before proceeding to barricade himself inside of the vehicle for approximately 6 hours. Additional ISP officers, including ISP SWAT personnel and ISP crisis negotiators, as well as various other law enforcement agencies assisted in various aspects of the incident including the following: Federal Bureau of Investigation, United States Marshal Service, Bureau of Alcohol, Tobacco, Firearms and Explosives, Illinois Secretary of State Police, Illinois Department of Natural Resources Conservation Police, Logan County Sheriff's Office, Sangamon County Sheriff's Office, McLean County Sheriff's Office, Springfield Police Department, Bloomington Police Department, and the Lincoln Police Department.
At approximately 5:00 p.m., the suspect was taken into custody without incident. The suspect is being transported to a local area hospital for non-life threatening injuries he sustained during the crash. The suspect is currently in ISP custody, and will eventually be turned over to the Federal Bureau of Investigation.
"First and foremost, we would like to extend our deepest condolences to the McHenry County Sheriff's Office and the family of Deputy Keltner," stated ISP Acting Director Brendan F. Kelly. "The men and women of the Illinois State Police, including responding Troopers from District 16, District 1, District 15, District 6, District 8, and District 9, all responded with seamless professionalism alongside the law enforcement of this state. ISP's SWAT team in particular showed incredible tactical restraint, bravery and boldness today. This dark day has come to an end, and this defendant can now be brought to justice," concluded Acting Director Kelly.
---
Police did a press conference around 6:30 pm

UPDATE: Suspect is now in custody. (Unknown on his status)
The officer has passed away. Officer Jacob Keltner.  The sheriff's deputy was critically wounded and later died. He had been with the McHenry County Sheriff's Department for 12 years and had been part of the United States Marshal Service Great Lakes Regional Fugitive Task Force since 2014

Video by Verna Santiago
---
Two confirmed victims.  One police officer and also a female.  Suspect is now wanted for an attempted murder on a police officer and is now wanted on a $5 million dollar bond.  He is still currently held up in his crashed vehicle in Logan County. Swat has surrounded the vehicle and are negotiating with the alleged suspect. He is reportedly waving a white towel, which means surrender. But is not yet in custody.
---
ISP is Assisting with Active Shooter Incident which began in Rockford, IL. ISP officers engaged in a pursuit with the suspect. The suspect is currently stationary inside of his vehicle on I-55 SB at MP 133 in Logan County. I-55 NB and SB at this location are temporarily shut down. Route 66 is also temporarily shut down. ISP SWAT is on scene and crisis negotiation officers are en route.
Reports from troopers involved in the chase, which reached speeds over 100 mph, said the suspect crashed his car near Lincoln around 11:30 a.m. but was refusing to leave his car. One report said he was pointing a rifle out the car.
A SWAT team has been called in, and all lanes of I-55 have been shut down.
"The suspect is currently stationary inside of his vehicle on I-55 southbound at mile post 133 in Logan County," the state police said in a statement. "SWAT is on scene and crisis negotiation officers are en route."
Reports are saying the officer is a  McHenry County sheriff's officer that is a part of the US Marshal task force and is in serious condition at the new hospital on E Riverside.
---
Suspect crashed into a ravine. Police have the suspect surrounded. They are trying to negotiate with the suspect. He is reported to be waving a white towel in the air. Still developing.
Sources are reporting: State police have shut down interstate 55 outside of Lincoln Illinois at mile marker 132 currently a negotiating team
---
Attempted murder on a police officer in Rockford. Suspect is Floyd Brown and in a Silver vehicle with a plate of or similar to BF13112 or a temp plate of 485U256 . He is the alleged shooter at the hotel on N Bell School, for the active shooter scene. Armed with a rifle. This is the suspect info, please share.  Police have confirmed this is the suspect and who they are currently searching for.
UPDATE:  Suspect vehicle wrecked and is in a ravine. Unknown on the status of the suspect.
Sources said US Marshall service fugitive taskforce officer was shot.
He was serving a warrant to a fugitive.
---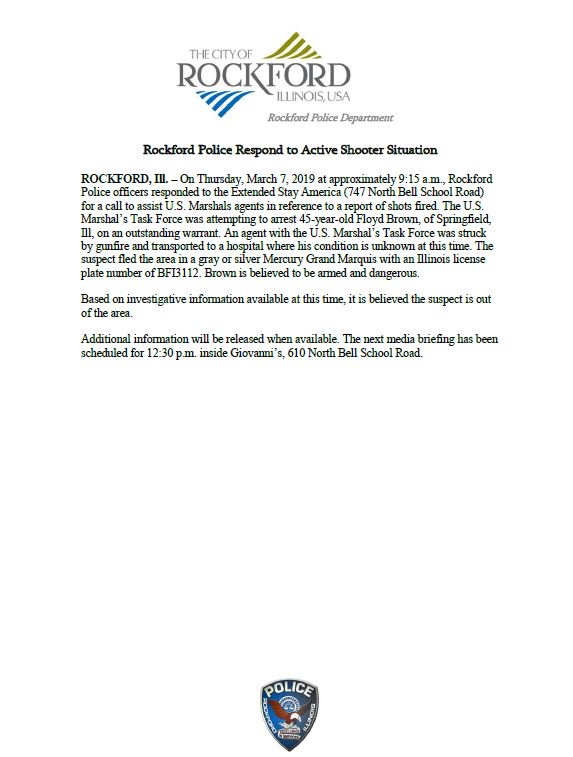 A source told us the alleged suspect may have gotten away in a  gray or silver mercury. Possible plate number of BF13112.  2006 mercury 4 door. Suspect is a black male named Floyd Brown and is wanted for attempted murder on a police officer.
(Police have yet to confirm this)
---
Police confirmed an "Active Shooter" situation. And advised the public to avoid the area.  One confirmed victim, Possible multiple victims. Sources said an officer may be one of the victims, but police have yet to confirm this.  Numerous police, Fire, Medical, SWAT, etc… are on scene.
---
Sources are reporting numerous police including the US Marshalls.
It happened in the 700 block of N Bell School, on the 3rd floor of the Extended Stay Hotel.
Sources said there are numerous police, US Marshalls, and also medical on scene. Including three ambulances.
We have unconfirmed reports saying this is a possible shooting scene.
Again, not confirmed yet.
Confirmed "Officers in Distress"   via sources, unknown what exactly what that means. But sources said at least one officer is injured.
Sources are reporting this is an active shooter scene.
Again, not yet confirmed.
All we can confirm is a major scene at the hotel and pretty much the whole police force is on scene, from several jurisdictions.
Still developing.
UPDATE: We been told the new hospital on E Riverside is on lockdown, one of the victims has been transported to this location.  Several emergency personnel are on scene.

Video via RS Source
---
Sources: ABC7Chicago, Governor Pritzker, RPD, ISP, Fox32, WGN, Winnebago COunty States Attorney Office, Witnesses at the scene, AP, Sources, and police scanner.