---
UPDATE: Sources said the serial rapist struck again on Wednesday February 12th.
Rockford Police have not confirmed anything, or released info on this most recent attack.
Suspect is a skinny black male in his late teens or early 20's that usually wears all black clothing.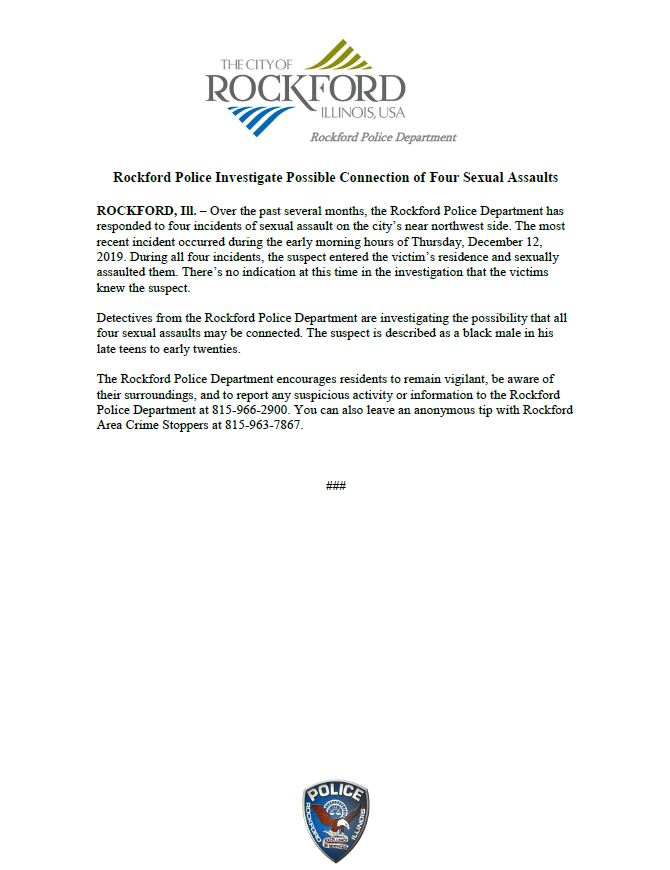 ---
UPDATE: After we posted this.
Several sources contacted us and are reporting another rape  in that general area on the 5th.
Reports of a woman was sleeping in her house, and the suspect came in and dragged her out into her backyard and then was raped by the suspect.
And the police told the victim there was a similar incident a few blocks away as well recently.
Sources: "He initially was going to rob us but my roommates daughter was still awake when he came in through the kitchen window."
RPD did not log this call in their call log.
---
Sources are reporting a scene in Rockford. 
It happened around 3:30 am in the 400 block of N Rockton ave. 
A woman was raped by a suspect near this location. 
Suspect is a  light skinned black male, 5'2, 140 lbs, wearing black clothing. 
---
---



Disclaimer: As you know the local police have encrypted, have not released any information, etc…
They rarely ever do release information to the public, since encrypting. So do not expect any updates.
The information that is posted was provided to us via various sources. So we can not guarantee the accuracy of this article.
We can only provide you the information that IS provided to us. If police and/or officials do release information, we will try to update this.
If you know of any corrections or errors, please contact us.
This is for entertainment purposes only.