---
Sources are reporting a very serious accident in Rockford. 
RPD said: PLEASE AVOID the 3400 block of W. State St. for a two-vehicle accident. All lanes shut down in both directions.
That is near RFD station 6 on W State st.
W. STATE UPDATE: Crash occurred between mini van and car.
The 2 occupants in the van and the 3 occupants in the car were all transported to local hospitals.
Conditions unknown at this point.
Avoid the area for awhile. Check back later for possible updates.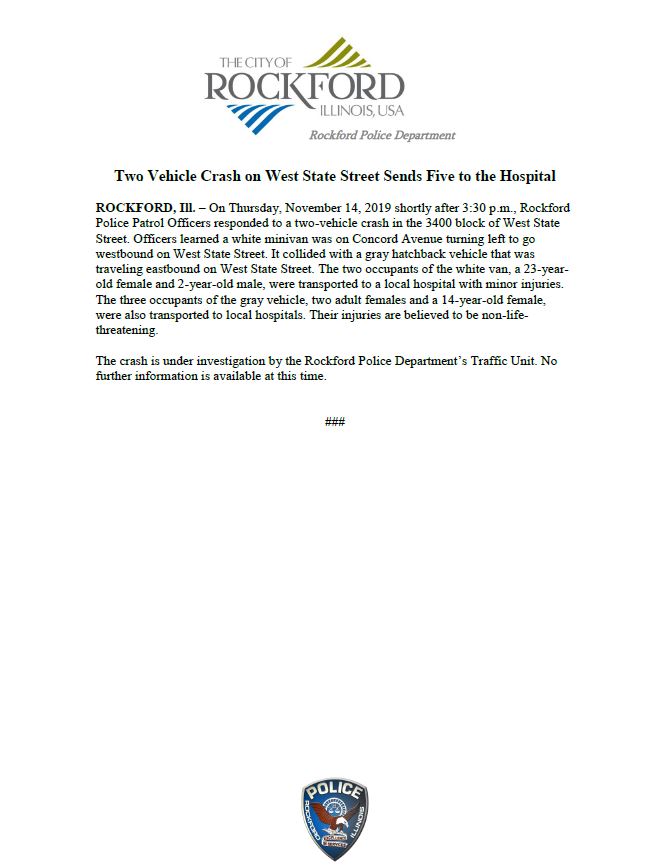 ---
---



Disclaimer: As you know the local police have encrypted, have not released any information, etc…
They rarely ever do release information to the public, since encrypting. So do not expect any updates.
The information that is posted was provided to us via various sources. So we can not guarantee the accuracy of this article.
We can only provide you the information that IS provided to us. If police and/or officials do release information, we will try to update this.
If you know of any corrections or errors, please contact us.
This is for entertainment purposes only.