---
---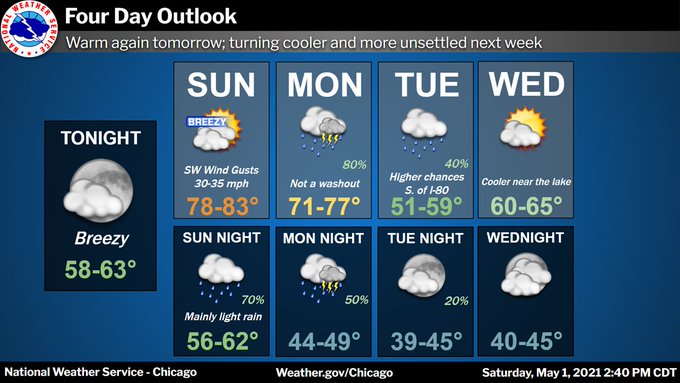 You can follow us on Twitter, Youtube, Facebook.
Brief Synopsis:  
Breezy conditions continue on Sunday, although the winds won't be quite as strong as today! Light rain chances return Sunday night into Monday Night although it won't be raining that entire time. A few stronger thunderstorms are possible on Monday
An increased fire danger will continue through sunset with winds gusting to 40-50 mph and dry conditions. Continue to use extra caution with open flames this afternoon!
Use extra caution with open flames in areas with dry grasses and shrubs today. The combination of warm, dry, and windy conditions will allow for any uncontrolled fire to spread readily
WIND ADVISORY REMAINS IN EFFECT UNTIL 7 PM CDT THIS EVENING…
* WHAT…Southwest winds 25 to 30 mph with gusts up to 50 mph.
* WHERE…Portions of north central and northeast Illinois.
* WHEN…Until 7 PM CDT this evening.
* IMPACTS…Gusty winds could blow around unsecured objects. Tree
limbs could be blown down and a few power outages may result,
and travel could be difficult for high profile vehicles on
north-south oriented roads.
* ADDITIONAL DETAILS…In addition to the strong and gusty winds,
warm conditions and low afternoon relative humidity values will
continue to result in an elevated to near critical fire danger
through sunset.
PRECAUTIONARY/PREPAREDNESS ACTIONS…
Use extra caution when driving, especially if operating a high
profile vehicle. Secure outdoor objects.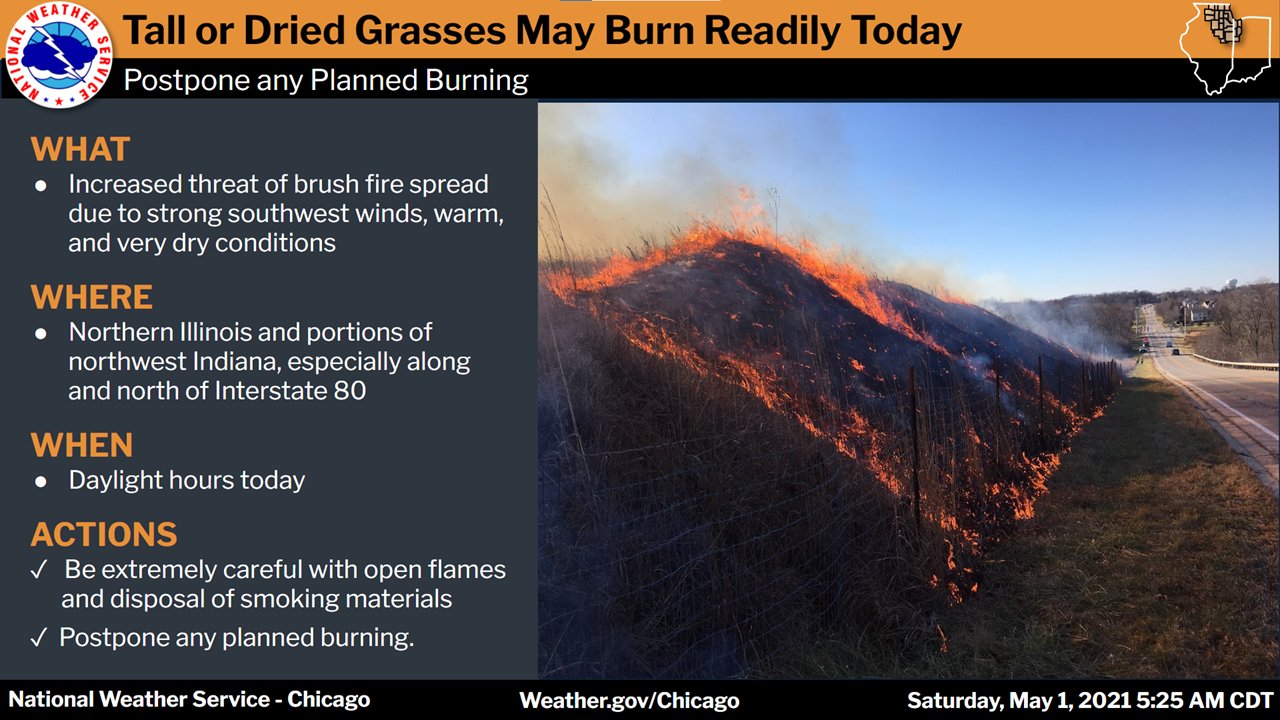 Credit/Sources:  NWS
---
All parties involved are innocent, until proven guilty in a court of law. We can only provide information that IS provided to us.  As you know, the local police encrypted and are not transparent. Some information may not be accurate. If there are any errors please let us know so we can try to possibly correct the errors.  Several people have asked questions, and we have tried to answer as many as possible on our FAQ page.  You can follow us on Twitter, Youtube, Facebook.