Rockford Scanner®: Winter Storm Likely for Part of the Area Friday Night into Saturday
---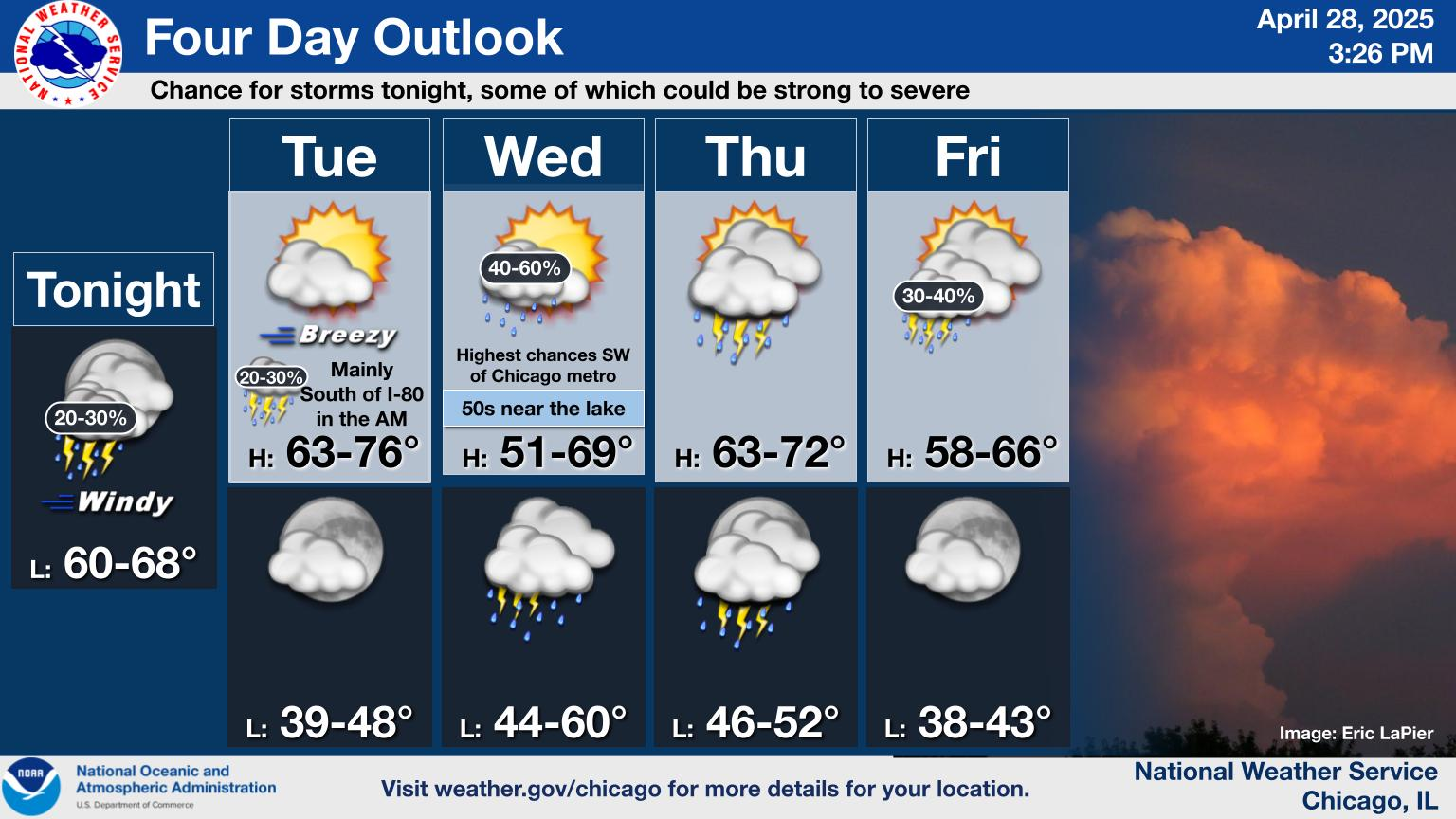 Heavy Snow and Strong Winds Possible Friday night into
Saturday…
.A late season snowstorm will impact parts of eastern Iowa and
northwestern Illinois Friday night into Saturday. The
precipitation will start out as rain or a rain/snow mix but
quickly change over to moderate, and at times, heavy snow.
The transition from rain to snow will take longer for areas south of a
line from Cedar Rapids to the Quad Cities. There will be a sharp
gradient in snowfall amounts on the southern and northern edges of
the swath of accumulating snow. Any shifts to the storm track
will greatly affect the snowfall forecast.
In addition to what is expected to be a wet heavy snow, easterly
winds are forecast to gust between 30-35 mph, creating
significant visibility restrictions and shallow drifting when
combined with the falling snow.
---
Stephenson-
Including the city of Freeport
307 PM CDT Thu Mar 22 2018
WINTER STORM WATCH IN EFFECT FROM FRIDAY EVENING THROUGH
SATURDAY AFTERNOON
* WHAT…Heavy wet snow, and strong east winds. Total snow
accumulations of 3 to 6 inches are possible. The highest
amounts are forecast across the southwest portion of Stephenson
County. Winds could gust between 30-35 mph.
* WHERE…Stephenson County.
* WHEN…From Friday evening through Saturday afternoon.
* ADDITIONAL DETAILS…Snowfall rates may peak around 1 inch per
hour leading to significant reductions in visibility and very
difficult travel conditions.
PRECAUTIONARY/PREPAREDNESS ACTIONS…
A Winter Storm Watch means there is potential for significant
snow, sleet or ice accumulations that may impact travel. Continue
to monitor the latest forecasts.
---
Winnebago-Boone-McHenry-Lake Illinois-Ogle-Lee-De Kalb-Kane-
DuPage-Cook-La Salle-Kendall-Grundy-Will-Kankakee-Livingston-
Iroquois-Ford-Lake Indiana-Porter-Newton-Jasper-Benton-
333 PM CDT Thu Mar 22 2018 /433 PM EDT Thu Mar 22 2018/
THIS HAZARDOUS WEATHER OUTLOOK IS FOR NORTH CENTRAL ILLINOIS…
NORTHEAST ILLINOIS AND NORTHWEST INDIANA.
.DAY ONE…Tonight.
Flooding is expected to continue along portions of the Kankakee
River.
.DAYS TWO THROUGH SEVEN…Friday through Wednesday.
Friday…
Elevated Ice Accumulation Risk Friday night.
Elevated Snow Risk Friday night.
Saturday…
Limited Non Thunderstorm Wind Risk.
Elevated Ice Accumulation Risk.
Elevated Snow Risk.
DISCUSSION:
A late season winter storm is expected to produce a prolonged
period of wet snowfall from Friday night through Saturday
afternoon. The largest snow accumulations presently are expected
along a corridor from Lee and Ogle counties in Illinois southeast
across La Salle County toward Benton County in Indiana.
Additionally, some areas well south of Interstate 80 may see
minor ice accumulation.
Portions of the Kankakee River will remain in flood.
---