Rockford Scanner®: WINTER WEATHER ADVISORY TODAY, EXPECT DANGEROUS DRIVING CONDITIONS THIS AFTERNOON AND EVENING
---
Rockford Scanner® is the area's leading news site.
We bring you breaking news, events, Etc… 
Be sure to bookmark our site and visit often.  
---
Today: Periods of rain before 4pm, then freezing rain between 4pm and 5pm, then freezing rain likely, possibly mixed with sleet after 5pm. Temperature rising to near 55 by 10am, then falling to around 27 during the remainder of the day. Breezy, with a south wind 15 to 20 mph becoming northwest in the afternoon. Winds could gust as high as 30 mph. Chance of precipitation is 90%. Total daytime ice accumulation of less than a 0.1 of an inch possible. Little or no sleet accumulation expected.
Tonight: A chance of snow, freezing rain, and sleet before 9pm, then a slight chance of snow between 9pm and 10pm. Mostly cloudy, with a low around 13. Wind chill values as low as -3. Blustery, with a north northwest wind 15 to 20 mph, with gusts as high as 30 mph. Chance of precipitation is 50%.
---
Sharp Temperature Drop Late Today With Brief Period of
Freezing Precipitation…
ILZ003>005-008-010-011-019-111800-
/O.NEW.KLOT.WW.Y.0003.180111T2100Z-180112T0600Z/
Winnebago-Boone-McHenry-Ogle-Lee-DeKalb-La Salle-
Including the cities of Rockford, Belvidere, Woodstock, Oregon,
Dixon, DeKalb, and Ottawa
358 AM CST Thu Jan 11 2018
…WINTER WEATHER ADVISORY IN EFFECT FROM 3 PM THIS AFTERNOON TO
MIDNIGHT CST TONIGHT…
* WHAT…Freezing rain and sleet expected. The ice will result in
difficult travel conditions, including during the evening
commute. Total ice accumulations of up to one tenth of an inch
are expected.
* WHERE…Portions of north central and northeast Illinois.
* WHEN…From 3 PM this afternoon to midnight CST tonight.
* ADDITIONAL DETAILS…Temperatures will fall sharply, dropping
below freezing late this afternoon into the evening. This will
result in untreated wet roadways and sidewalks freezing and
becoming slippery.
PRECAUTIONARY/PREPAREDNESS ACTIONS…
A Winter Weather Advisory means that periods of freezing rain
and slick conditions will cause travel difficulties. Be prepared
for slippery roads. Slow down and use caution while driving.
---
THIS HAZARDOUS WEATHER OUTLOOK IS FOR NORTH CENTRAL ILLINOIS…
NORTHEAST ILLINOIS AND NORTHWEST INDIANA.
.DAY ONE…Today and Tonight.
WEATHER HAZARDS EXPECTED:
Elevated Ice Accumulation Risk.
Elevated Sleet and Snow Risk.
Limited Non Thunderstorm Wind Risk.
DISCUSSION:
A strong cold front will move through the area this afternoon
and early evening. A few hour period of freezing rain and sleet
is expected from west to east across the area late this afternoon
through this evening. For areas east of Interstate 57, a longer
period of snow and sleet is probable late this evening into
overnight, with minor accumulation.
The brief period of freezing rain, along with crashing
temperatures and wet roadways, will likely create hazardous travel
conditions on untreated roads this evening.
Wind gusts of 30-40 mph are possible this morning and then late
this afternoon and tonight behind the cold front.
Localized ice jam flooding will remain a threat on area rivers.
.DAYS TWO THROUGH SEVEN…Friday through Wednesday.
Friday…
Elevated Excessive Cold Risk.
Elevated Snow Risk Near Lake Michigan.
Limited Non Thunderstorm Wind Risk Near Lake Michigan.
Saturday…
Elevated Excessive Cold Risk.
Elevated Snow Risk Near Lake Michigan.
Sunday and Monday…
Elevated Excessive Cold Risk.
Limited Snow Risk Sunday Night.
Tuesday through Wednesday…
Elevated Excessive Cold Risk.
DISCUSSION:
Lake effect snow is likely into northeast Illinois and northwest
Indiana beginning Friday afternoon and persisting through Saturday
morning, and likely for northwest Indiana to persist through
Saturday evening. Minor accumulations of up to several inches and
sharply reduced visibility conditions near the lake are probable.
Snow is appearing likely across the area Sunday Night into Monday.
Minor accumulations are possible.
Localized ice jam flooding will remain a threat on area rivers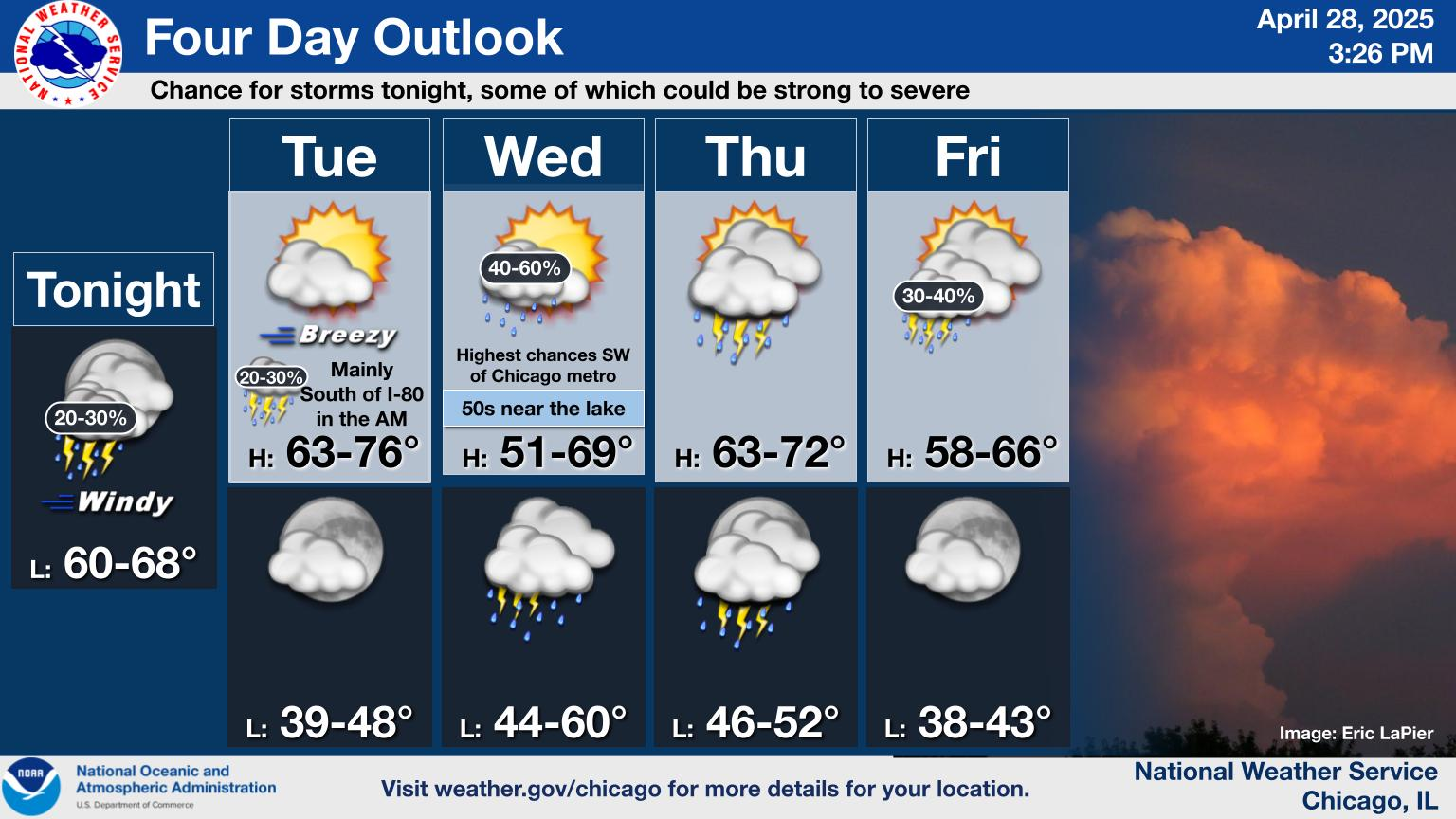 ---



We are currently seeking volunteers. If you are interested, please visit CLICK HERE
---